The Ultimate 2020 Holiday CBD Gift Guide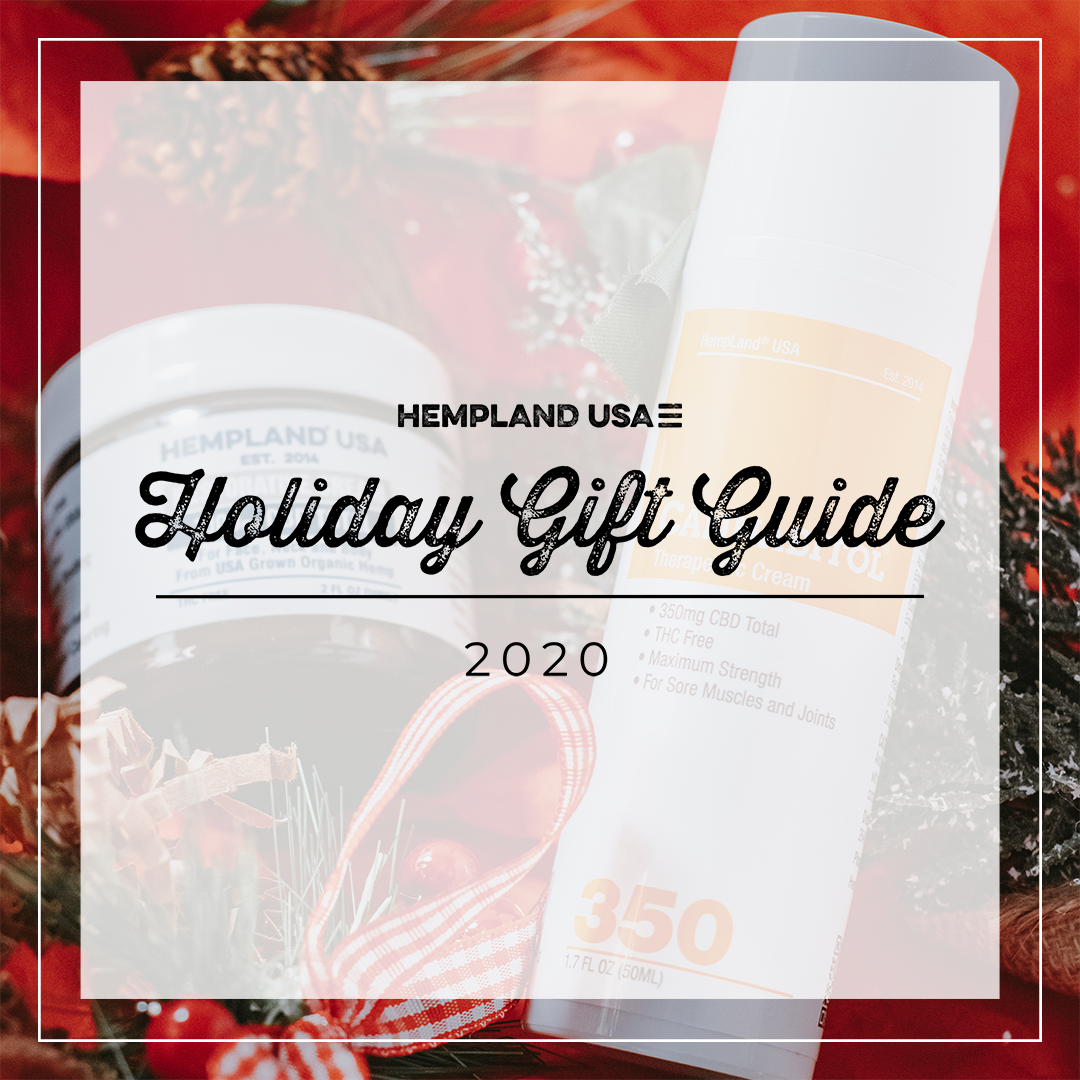 The Ultimate 2020 Holiday CBD Gift Guide
It's 2020. Need we say more? The gift of wellness, balance, and support is all we could use! Simplify your gift-giving this year with our curated CBD Gift Guide, so you can spend less time stressing over the perfect gift and more time enjoying the company of loved ones (even if it's through Zoom!).
If you're looking for the perfect gift for the one you love, HempLand USA's 2020 Holiday Gift Guide is a one-stop-shop with gift ideas for the whole family—including your beloved family pet!


FOR THE ACTIVE ONE
CANNABITOL® Therapeutic Cream
$29.95
Whether someone is an athlete or an avid gym-goer, they may need a little extra assistance to help recover tired muscles and joints.
CANNABITOL® Therapeutic Cream is packed with 350mg of CBD and is applied to targeted areas before and after physical activity. The fast-absorbing, non-greasy cream cools and warms simultaneously to relieve tension and enable a faster recovery.
Pure CBD combined with other highly active botanicals like capsicum gives the cream its unique orange color and strong tension-relieving effect. The long-lasting relief will keep your active loved one running at 100% and feeling their best at all times.


FOR THE SELF-CARE CONNOISSEUR
CANNABITOL® Restorative Cream 500mg & 1000mg
$39.95 - $59.95
The self-care and beauty connoisseur knows that skincare is not just a trend. Luckily we have two gift options for the skincare lover in your life. Both include our premium, organic CBD combined with other highly active botanicals that work to target the visible signs of aging.
Restorative Cream comes in two strengths to meet the needs of all types of skin. Choose either 500mg of pure CBD isolate or 1000mg of Full-Spectrum CBD. Both plant-based creams help restore moisture, soothe, and balance skin and are a great addition to any morning or nighttime skincare routine.
Restorative Cream devotees love both formulas as an all-purpose cream for their hands, neck, or any parts of the body that need a little extra TLC. To a self-care connoisseur, the luxurious, ultra-rich Restorative Cream may be the best gift they receive all year!


FOR THE PARENT ON-THE-GO
CANNABITOL® Full-Spectrum Hemp CBD Oil— 1000mg

Moms and dads on-the-go often experience a sense of imbalance between getting the kids ready, work meetings, preparing dinner, laundry, and other daily stressors. Giving them a moment to themselves is something they'd be utterly grateful for. While you may not be able to gift free time to a busy parent, you can help them find a moment of calm within their day.
CANNABITOL® Full-Spectrum CBD Oil contains the whole plant extract so that you're able to experience all of hemp's calming and balancing benefits. A full-spectrum oil provides comprehensive endocannabinoid system (ECS) support and promotes homeostasis, a state of optimal balance.
Incorporating our Full-Spectrum Hemp CBD Oil into your daily routine supports a calm and relaxed body and mind. The busy parent in your life will appreciate the moments of quiet and the thoughtfulness behind the gift!


FOR THE MILLENNIAL
CBD Gummies

You've come to the right place if you have a picky millennial in your life. Millennials are known to seek out information and research even the smallest of details before making a purchase. With the most discerning generations in mind, we combined high-quality ingredients with a great price to create the ultimate CBD gummy.
Made with our USA-grown organic hemp and other premium all-natural ingredients, HempLand USA CBD Gummies are free of THC, gluten, dairy, soy, casein, corn syrup, additives, and artificial sweeteners! Not to mention they're vegan and just as delicious as the gummy bears from childhood.
CBD Gummies are the perfect addition for the wellness-loving, plant-based millennial that seeks healthier alternatives to traditional treats. Your favorite millennial will appreciate a gift that supports well-being and encourages mindfulness!


FOR THE GRANDPARENTS
CANNABITOL® Soft Gels
$79.95
Baby Boomers and the preceding generations value independence and appreciate convenience, as long as reliability and quality aren't sacrificed. If this sounds like someone you know, CANNABITOL® CBD Soft Gels may be the ideal addition to your parent's, grandparent's—or even your own—daily wellness routine!

CBD Soft Gels are convenient without sacrificing quality and effectiveness. You'll experience the same high-quality hemp CBD oil as our bestselling tinctures but in an easy-to-swallow soft gel capsule. Our non-liquid capsules are the perfect alternative for those who may have trouble with the taste of CBD oil. Plus, the maximum strength, pre-measured dosage makes it easy to track precisely how much CBD you take daily.
If your loved one is concerned about the intoxicating effects of THC, rest assured that our CBD Soft Gels are completely THC free. For anyone seeking reliable, long-term balancing support and improved daily wellness, CANNABITOL® Soft Gels are the go-to gift!


FOR THE PET LOVER
CANNABITOL® K9 drops
$29.95
Calling all dog and cat parents—this one's for you! We know fur babies are family, and we do everything we can to keep them healthy and happy. This year HempLand USA's K9 Drops are the perfect stocking addition (we know they have one..) to keep them in tip-top shape!
CANNABITOL® K9 Drops offer 350mg of THC Free, organic hemp CBD that you can give directly as a treat or mix into their daily food. The formula contains only high-quality natural ingredients, with no additives, and a touch of real liver that all pets love! Don't let the name fool you—K9 drops are also for cats!
Giving your loved one the gift of daily balance and wellness is priceless. Your furry best friend can thank us later!
HempLand USA's Customer Care Team is happy to help with personalized suggestions! Please reach out to us directly on Facebook or Instagram, or send an email to support@hemplandusa.com. Our CBD experts are standing by to help you find the perfect gift.
We wish you all a safe and happy holiday season!
---